MSMS has implemented additional guidelines to ensure the health and safety of our students and employees on campus during this unprecedented time. Among these guidelines, all individuals are required to wear masks, social distance, and regularly sanitize their hands and work stations. We will continue to remain diligent in these efforts and will require all campers to do the same if they choose to stay with us for the residential camp experience.
MSMS African American Youth of Mississippi Excelling (AAYME) Program
AAYME is a personal and academic enrichment program designed specifically for rising 8th, 9th, and 10th graders. The mission of AAYME is to enhance the future of Mississippi by helping African American students achieve their full potential through personal, social, professional, and leadership development. The goal of the AAYME camp is to:  
Build and/or enhance self-awareness and confidence of African American students.

 

Expose students to various college and career opportunities.

 

Provide support for students to be more competitive for scholarships and programs (academic enrichment, ACT/SAT prep, test taking strategies).

 
Build personal and professional skills.

 
Participants in the "AAYME for Success" camp will have access to dynamic faculty and professionals who will engage them in various enrichment activities that will increase their potential for academic and professional success.  
WHEN:  June 20-25, 2021  
WHERE:  MSMS campus in Columbus, Mississippi (Mississippi University for Women) 
COST:  The 2021 camp is sponsored by MSMS alumni and partners and all applicants who are accepted to attend will receive a full scholarship that covers camp tuition, room, and board (a $675 value). Though the cost is FREE, all applicants who are accepted to the camp must pay a $25 non-refundable camp commitment fee to secure their registration.
CRITERIA:  Participants must be African American youth who will be in 8th, 9th, or 10th grade during the 2021-2022 school year. Priority consideration will be given to applicants from economically disadvantaged households, communities, and schools, who can demonstrate potential for high academic achievement.  
APPLICATION: The application for the 2021 camp has officially closed.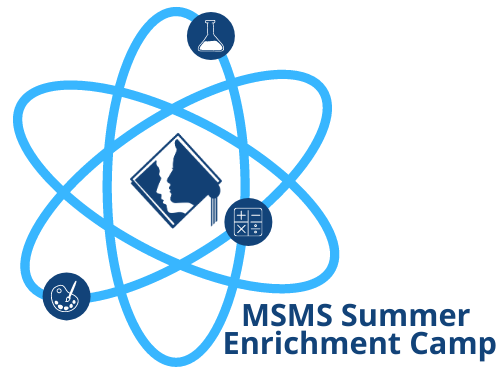 Residential Summer Enrichment Camp
In addition to directly serving the state's brightest upper classmen throughout the school year, MSMS proudly hosts two camps every summer designed to challenge gifted middle school and early high school students. These Summer Enrichment Camps provide an opportunity for academic inquiry and exploration through a variety of specialized STEM+ mini-courses. For many students, this is their first exposure to rigorous and innovative science and mathematics electives, which, in turn, ignites a passion for inquiry and an enthusiasm for learning. Summer camp participants live and learn together in a residential setting. Every evening, students interact with small groups to compete in team activities to enhance communication, problem solving, and critical thinking skills.
Tuition for each camp is $700 and covers all fees and expenses, including meals. Financial assistance is available for qualified campers.
2021 Camp Information
The 2021 middle school and high school Summer Enrichment Camp applications have officially closed.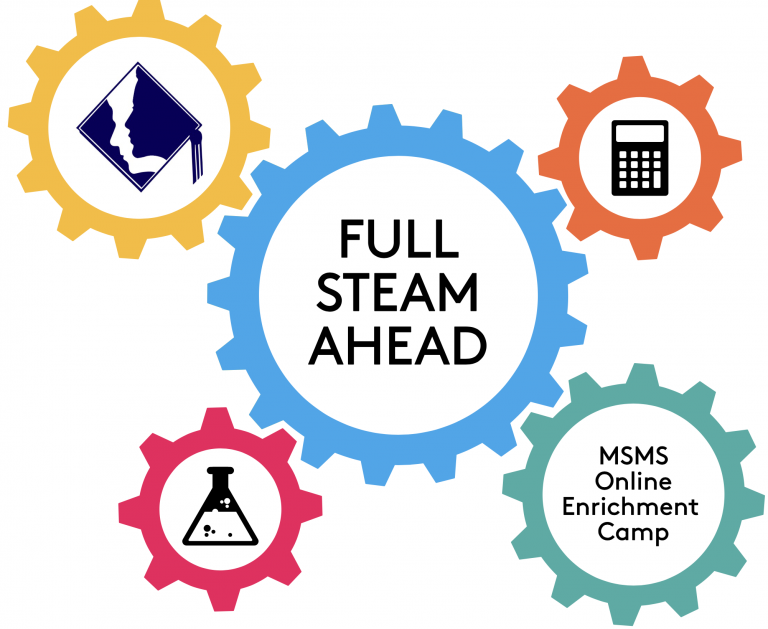 Full STEAM Ahead: MSMS Online Enrichment Camp
Full STEAM Ahead is an online enrichment camp created by MSMS faculty and alumni to inspire learners and promote exploration in science, technology, engineering, arts, and mathematics. This unique camp experience will allow a community of like-minded students to connect and grow during the summer through online and interactive lessons, virtual meetings and discussion boards, and hands-on activities. 
Participants need a device (computer, iPad, smart phone, etc.) and reliable internet access to complete this online course. 
There are a limited number of scholarships available to students who qualify for free/reduced lunch. You can request financial assistance on the application.  
2021 Online Camp Information
The 2021 Full STEAM Ahead: MSMS Online Enrichment Camp applications have officially closed.